Version reviewed
Win at Checkers
Print Version with 109 numbered pages. Copyrighted and Published by Dover Publications Inc. 1956. The original book first published in 1941.
ISBN-13: 978-0-486-20363-8
ISBN-10: 0-486-20363-8
About the author
Millard Fillmore Hopper (1894-1985)
Born 1894 in Greenwich Village he was a writer, publisher, and touring exhibition checkers player during the 1930s & 1940s. He did radio and television broadcasts on checkers, entertain the troops during WW2 and so many more checkers related activities. He competed in two world title matches against Tom Wiswell for the Freestyle Championship, losing in 1951 scoring 2-7-27 draws, and drawing his second match in 1953 scoring 2-2-26 draws. Overall Millard Hopper played thousand of games did play thousand of games just at the New York World Fair and to his special credit Marion Tinsley did pick up his book as one of his first checker's books. Millard Hopper's actual title on the book cover as the Unrestricted Champion was achieved in a ten-game match with Alfred Jordan, Champion of Great Britain.
Book Index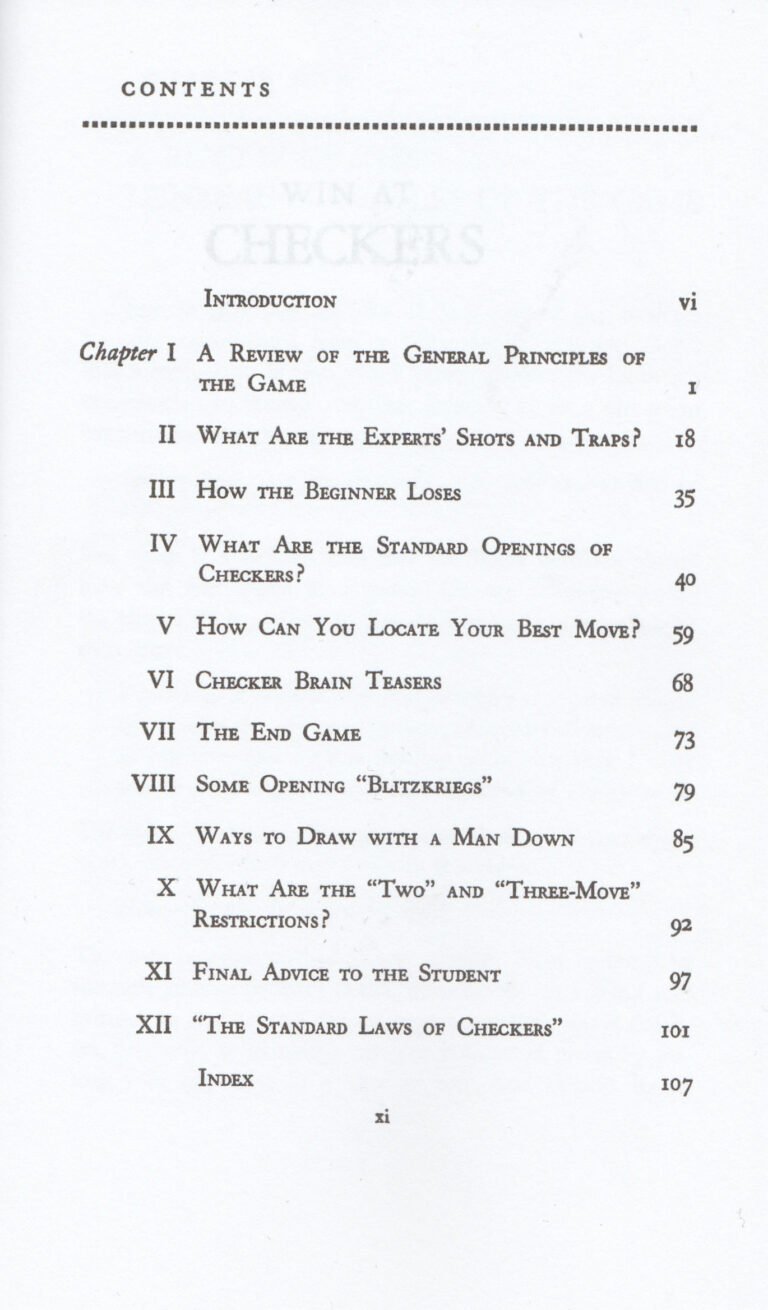 Content
Who is this book for?
The book gives you some of the most basic ideas and is quite short. It is clearly aimed at the beginner level and has some student to teacher interactions and a lot of instructive text. It touches on some core ideas and philosophies for advanced play and covers basic openings. It goes down to the level of someone that has no clue what checkers is about or even the slightest clue about some of the core ideas and openings.
Conclusion
I found the book quite fun to read and the instructions are unlike other books for beginners. All is well explained with a lot of text to back it up and kept rather simple not touching on too many to advanced topics. The student to teacher interactions to answer the most basic question that a beginner would have. It is one of the beginner books that people will recommend even to this day and age. Nothing is covered overly in debt but this is not the goal of this book. All in all a solid beginner book which I would put into my top 5 recommendations when a beginner would ask for a good book to start with. Besides Lees' Guide, this is the other book the famous Marion Tinsley did pick up in the university library.
Rating

Where to obtain
Commercially
Alternative Beginner Guides
Learn Checkers Fast
Play Winning Checkers
Let's Play Checkers
…and so many more…