Alexander Bryson (1840-1915)
While most of you will not know him as he was not a famous player and didn't seek the limelight, Alexander Bryson is and was one of the most important contributors and, for a time, the most powerful and well-connected draughts politician, publisher, referee, trustee, financier and lover of draughts.
His exact date of birth is not given but just given as begin of the 1840s. Alexander Bryon was born around 1840 in Glasgow to Alexander Montgomery Bryson and Jeanne Bryson (nee Currie). He did marry Jane Paton, from Hawpark in Clackmannanshire, in 1862, and they had seven children, four of which being boys.
In his professional life, Alexander Bryson was the head of a large publishing firm in Glasgow. With this business, he published and printed some of the most crucial early-day draughts books, magazines, and tournament booklets. The first publication he was asked to assist in floating was the Draughts Players Weekly Magazine. Yet a dispute on the commercialization did force him to cancel the this co-operation. He did try his hands at publishing McCullochs Guide, but this failed to have any financial success. Not letting himself down with his early failures, he published the Draughts World Magazine to roaring success.
The Draughts World (1892-1913) is one of if not the most successful magazines in Draughts history and of general importance for the early days of the game at a time when the Scottish Players reigned supreme. It is still one of the best and earliest sources, full of news, anecdotes, games, and biographies with pictures of important players of the time.
Alexander Bryson did at one time hold quite a few official positions in the English Draughts Association and the Scottish Draughts Association, which for the time shows how well-connected and liked he was. It is telling that the Americans' initial invitation for the First International Match was sent to him and his magazine to communicate with the Scottish Draughts Association and the English Draughts Association on their behalf. A star-studded Great Britain team made the trip over the ocean in 1905. On this occasion, he did once again take on official functions and refereed this great match alongside F. A. Fitzpatrick, which the Great Britain Team won by a significant margin.
Failing health did force him to stop publication of the Draughts World, and he died on the 9th of June 1915 in Glasgow due to arterio-sclerosis.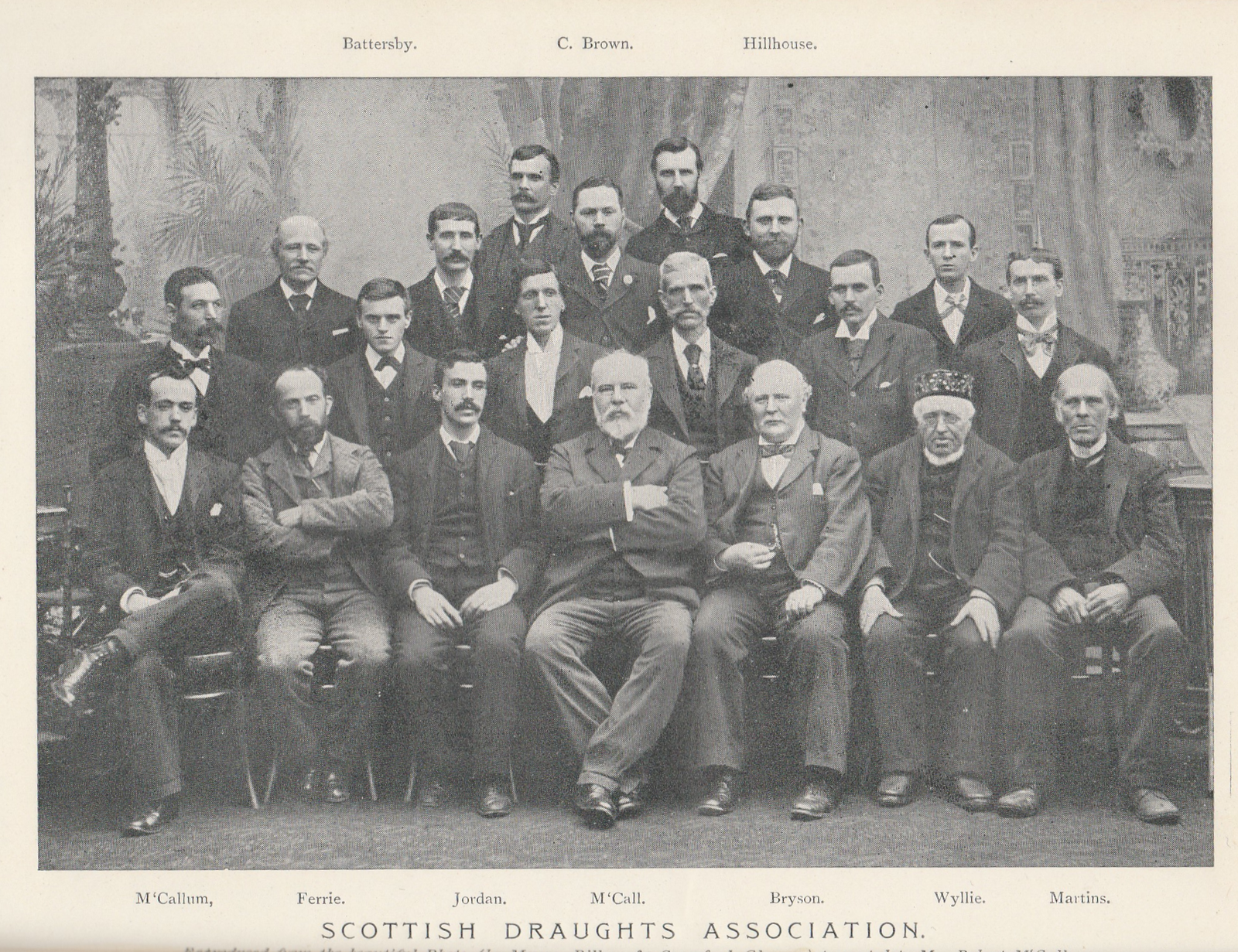 Publications and their looks by Bryson: