Version reviewed
The Encyclopaedia of Draughts or most commonly referred to as Kears Encyclopaedia.
First Edition and First Volume Publication 1901 – Second Edition Third Volume first 1911.
Volume 1 – 2nd ED 1918 – 12-16s – page 1-72.
Volume 2 – 2nd ED 1916 – 11-16s – page 73-144.
Volume 3 – 2nd ED 1911 – 11-15s – page 145-228.
Volume 4 – 2nd ED 1912 – 10-15s – page 229-300.
Volume 5 – 2nd ED 1918 – 10-14s – page 301-372.
Volume 6 – 2nd ED 1914 – 9-14s – page 373-444.
Volume 7 – 2nd ED 1918 – 9-13s – page 445-516.
Totaling 516 pages.
Published by E. Marlborough & Co. Ltd. and printed by J. A Kears, Jr. Bristol.
I am missing the cover for Volume 5 – 2nd Ed so thank you to Ken Lovell to provide the publishing date 1918 to me.
The Book was published in 6 parts with varying publishing dates. You will find all kind of bindings as the lose volumes were individually bound by the individual owners.
About the authors
John Alexander (18xx-1950)
John Alexander of Birmingham, co-author of Kears Encyclopedia and being a draughts historian and well-known player representing England and the UK in their international matches.
James A. Kear Junior (1871-1955)
James A. Kear Junior. is the son of James A. Kear who was a well-known international player and book publisher. The son did follow in his footsteps as a player and publisher. He did publish and author Kears Encyclopedia as well as many other book reprints and magazines. It is to note that in Stearns Book of Portraits he is as well regarded as a fine player and problemist.
Book index
In this edition no actual index is provided. Later versions do have the openings and the page number on the front page.
Content
Each of the volumes has a few pages of individual draughts problems.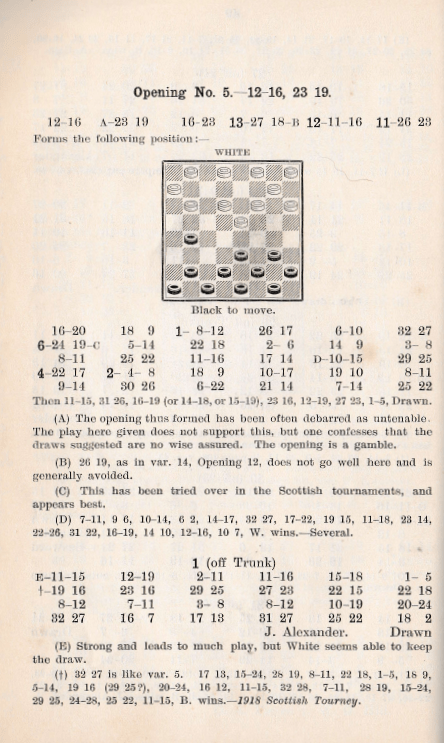 Who is this book for
A beginner might find it to much in dept but for the expert player that tries to expand his play or look for inspiration it will be of great value to prepare for a tournament or to widen his knowledge. The openings are arranged by 2-move openings. Its a timeless classic while not up to scratch with current best play it is still on a level most players dream to aspire. It is written by some of the top players of by gone area where the Scottish Players dominated the draughts world.
Conclusion
I would use it for practice to keep expending your opening knowledge and some inspiration especial for some tournament lines. While some of the play might be not sound by todays standard compared to more modern books there is still a lot of sound play in it. Most people will answer they do prefer Lees Guide as it is in general less bulky and has more recent content improvements. In general I do hink its just a matter of personal taste which one of the classic opening books you do pick up from your shelf.
Rating

Where to obtain
Not aware of any cheap reprints or digital scans. This book wont be as cheap as other books reviewed. If you do prefer to obtain the classic originals then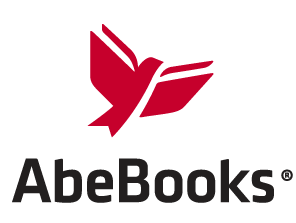 Be aware some of the search results will be lose volumes! Please look at the total page number.
Thank you to Ken Lovell, Anthony Bishop and Liam Stephens to fill in some gaps. I still do miss the year of birth of Mr. Alexander. If someone has this information. Please do forward them to me. Thank you in advance.
Alternative opening books
Sturges Guide to the Game of Draughts
…and so many more…