Barker Woolhouse (1817-1914)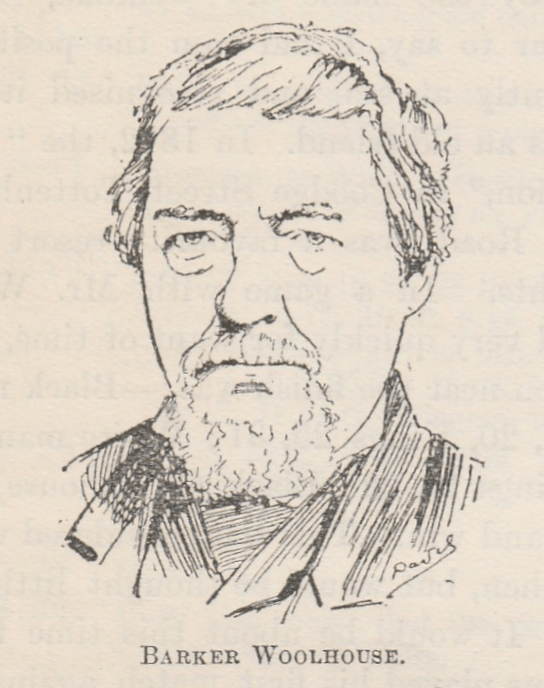 One of the unsung heroes and host to most of the greats of the early days of draughts was Barker Woolhouse. He was born in 1817 and had the great misfortune to lose both parents when he was about nine years old. Shortly after he exchanged a rabbit for a draughts board and men and soon acquired a love for the game. At thirteen years of age he was apprenticed to the sea, and during this period and three years afterward, he played on every available opportunity onboard ship. At 22 years he left the sea and settled down in London in order to undertake studies, with the view of entering the life insurance businesses as assistant actuary of his late brother. He managed to get his appointment and held it in for fifty or thereabouts up to the year 1892 until he retired. He was particularly close with Robert Martins, John Drummond, Thomas Hudson, as the "An Old Time-Joke" news item on the bottom of this biography will show.
Having obtained a copy of Sturges by Walker, he did manage to find an improvement in the Single Corner which went by the name of "Jemima" as he had won this position frequently at sea. In 1844 he did invite John Drummond to visit London, who stayed with him for several weeks, and he describes Drummond as a man whose enthusiasm, industry, and patience were beyond description. His pockets were stuffed with manuscript games and improvements. Woolhouse having lost his second edition of Andersons, wrote to Drummond to send him a copy. Drummond couldn't obtain one but did send his own copy, with improvements marked on every page. James "Herd Laddie" Wyllie had often honored him with a visit, which resulted in plenty of hard fought games. The day before Wyllie sailed to Australia he favored him with a long visit, which lasted all day. At the finish the score was: Wyllie 1, Woolhouse 1 drawn 4. He did keep a little book of games played with Wyllie between Nov. 8 and Dec. 14, 1872, at private sittings; total score Wyllie 3, Woolhouse 1, drawn 26. He remembers a lively recollection of visiting his friend Mr. Hedley in Leeds who had a young man at his house waiting to play me; no doubt he had much the best, and I wonder who he could be. That young man was Frank Dunne, later a well-known expert and author.
The Second Edition of the Scottish Draughts Player is dedicated to him and he did write the article on The Move. He was an English selection for the first England vs Scotland International match at age 73. He did compose draughts problems which can be found in Gould's Book of Problems and many of the Newspapers of the time.
A fond memory of his was when he was called upon one day by a group of gentleman with Yorkshire accents. Those gentlemen turned out to be Birkenshaw, Strickland, Horsfall, and Willie Gardner that came to London to play the Woolwich club. They played a series of friendly games and he was paired with Birkenshaw and Horsfall. He did manage to beat Horsfall but did lose to Birkenshaw. On another occasion, he had a visitor in Mr. J. A. Kear quite unexpectedly so he had no free accommodation instead they played the night away.
All in all, during his long career he did meet and played James Wyllie, Robert Martins, Thomas Hudson, W. Porte, Robert Stewart, William Bryden, W. Beattie, Frank Dunne, Willie Gardner, William Strickland, Alfred Jordan, and a host of others.
A game by Barker Woolhouse:
He died on 6th August 1914 at the old age of 97. He was one of the longest living players and a celebrity in draughts circles and who received most of the leading British players at his home.
Barker Woolhouse in the news: