Clarence Herbert Freeman (1859-1909)
Clarence Herbert Freeman's peers described him as being a quite unassuming intelligent man, with a modest demeanor and disposition. He possessed a fondness for music and playing the violin. His only offence in appearance being a somewhat lavish display of jewelry. He was referred to as "The World Beater" and "The Peerless Player of Provenance" as he had a unique talent for beating World Class Champions. Freeman was also known as a formidable blindfold player, along with having attached himself to the art of sleight of hand, with flattering success, exciting the intense curiosity of his audiences. Being of Pequot Indian and to some degree African heritage, Freeman was born into a poor, socially disadvantaged family in Central Village, Plainfield Connecticut, on Dec. 7, 1859. His parents divorced when he was a young boy, leaving for the most part Clarence's upbringing to his Native American maternal grandmother. He moved with his mother and grandmother to the Hoyle Square area of Providence, Rhode Island when he was a teen. Clarence commenced playing checkers when about seven years old, as was the custom among his people, he used black and white beans or yellow and white maze kernels (Indian corn) for men.
Freeman first came into prominence as a player in 1876, when he was but 16 years old, winning first prize in a tournament for the Providence City Championship. In April of 1877, he contested two matches with Martin Stewart, which he won with a total score of 16 to 11. In December he met with the world champion, R. D. Yates, playing 8 games he lost by a score of Yates 4, Freeman 0, with 4 drawn games. Also during the Winter of 1877, he was challenged by James Hill and played a match of 24 games, which he won by the score of 6 to 4, with 14 draws. About this same time, he defeated J. H. Irwin by a score of 18 to 2, and 14 drawn. Also about this time, Freeman played the first of 3 matches he would come to play with Roland Edwin Bowen, this first contest between them consisted of 11 games resulted in R. E. Bowen winning 4, Freeman 3, with 4 drawn games. In 1879 Freeman challenged M. G. Merry, of Lonsdale, for the state championship. Three total matches were played between them, with Freeman winning them all by the scores of 8 to 2, 12 to 3, and 12 to 2, respectively. About this same time Freeman played Matthew C. Priest, champion of Pennsylvania, with the result being, Freeman 9, Priest 8, drawn 33. Matthew C. Priest was not satisfied with this match and another was played, which Priest won by the score of 5 to 2, with 41 games drawn. Sometime later in 1879 he played the second of his three matches with R. E. Bowen, once again Freeman was defeated by a score 1 to 0, and 10 drawn.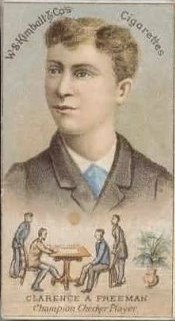 It was around 1880 that Freeman first ventured from his home to play. He went to Boston, MA and met the champion, C. F. Barker for the first time. They played a match of 19 games, he defeated Barker by the score, Freeman 6, Barker 2, 11 games were drawn. Subsequently, the two of them would have four other encounters, the second resulting in five draws, and the third in 6 draws. In July 1880, Freeman met R. E. Bowen for the third time with different results, this time beating Bowen by a score of 3 to 0, with 3 drawn games. In 1882, the World Champion, James Wyllie, a.k.a. "The Herd Laddie" was giving exhibitions in Phoenix, upon the invitation of some of the players, Freeman went up and met the veteran, they played 3 games and although out of practice, freeman came out of the contest with an even score of, Freeman 1, Wyllie 1, with 1 game drawn. In December 1884, Wyllie visited Providence to give exhibitions, and a friendly match of 20 games was arranged between them. This lasted six days, and to the great surprise of the checker world, the match was won by Freeman with a score of 4, Wyllie 1, with 15 drawn games. Emboldened by Freeman's success with the "Herd Laddie", his friends convinced him to try for the American Championship. Accordingly, a match was arranged with C. F. Barker, for a stake of $400 and the Championship. This being their forth encounter, the match commenced on April 11, and concluded on April 29, 1885 in favor of the challenger, by the score, Freeman 6, Barker 3, drawn 39. Freeman held the American Championship but for little more than a month, losing it to August Heffner, then a resident of Providence, in a match lasting from May 25 to June 2, consisting of 25 games with a stake of 100 Dollars. Score: Heffner 4, Freeman 3, and 17 games were drawn. Although Freeman frequently indulged in simultaneous play with members of the Providence Checker Club, he almost entirely neglected the game after losing the championship, and having no other single cross-board practice with any strong players other than here mentioned until 1889. In May of that year, James Hill, then on a visit to his former home, defeated Freeman by the score, Hill 1, Freeman 0, drawing 2. At some point that year, Freeman played and won one game with H. Z. Wright. Then on Thanksgiving day, Freeman played 20 games simultaneously, winning an impressive 19 games, O. H. Williams, of Westerly, secured the only draw; the 20 games occupying but 1h 40 min. Massachusetts marriage records of 1889, indicate that Clarence married Seraphina Etolia Curry, of Mansfield, Massachusetts. The couple lived briefly near his family around Hoyle Square before moving to Transit Street in the Fox Point area of Providence, his last known address.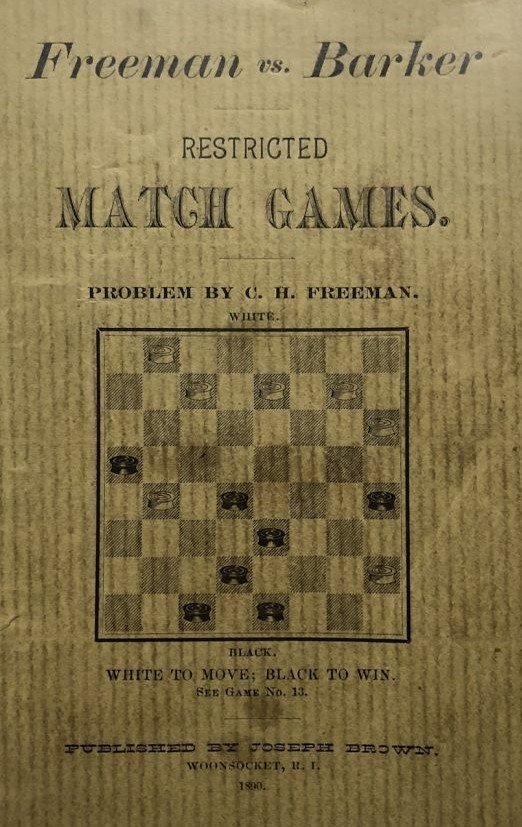 Leading up to the fifth battle between C. F. Barker vs. J. P. Reed, September 14-28, 1892 for the title of American Match Champion, Freeman served as one of three coaches preparing Barker for his up coming match. Much of C. F. Barkers decisive victory 5 wins to 0 over Reed with 23 games drawn, was credited to Freeman's good coaching. September 1-17, 1890 Freeman played a match with C. F. Barker for the fifth and final time, in a non-title stake match for $500. The result was 2 wins in Freeman's favor to 1 loss and 27 draws. In September 1893 Freeman took on J. P. Reed defeating him 2 wins with 12 games drawn. Two weeks later another match was played in Chicago and the final score was drawn 3 wins each and 12 draws. He shortly thereafter retired from the game and never again engaged in any important checker match, no longer having any taste for such encounters.
Freeman was elected to participate for the United States in the First International Checkers Match between Great Britain and the United States which took place March 14-25, 1905 in Boston, Massachusetts. Although he was unable to participate as a player due to his state of health, he was present during part of the match. It was reported that he had two surgeries in 1902 and had spent considerable time recovering. Clarence Herbert Freeman died on 20 May 1909 due to bladder trouble after having been hospitalized for six weeks at the Rhode Island Hospital in Providence. He is buried in an unmarked grave at Providence's Grace Church Cemetery.
A game by Freeman:
An contemporary witness describes him as: "A figure of medium height, and but slightly built, he was agile in movement, quick of step, alert of perception, and of abundant patience. Curly of hair, and closely shorn, he was darkly sallow of skin. He had the sensitive action of the eyelids that betoken close application to books. At the board he was calm as a Sphinx, and, save the occasional wetting of the lips by the tongue he was motionless. He had a taste for music and his violin. He didn't own a lot of books but his favorite was Robertsons Guide and his favorite opening was the Second Double Corner."
Freeman in the news:
Thank you to Pal Bucker for the many discussions and sources plus helping to edit this article.