Version reviewed
The Checkers Games of Harry Freedman
First Edition in 2010 – Totaling 198 pages.
Published by Jim Loy.
About the author
Jim Loy
Some of you will know Jim Loy. In his own words as of January 2021. " I have lived my entire life in Montana (except for a few years in the Army, including Vietnam). I am 73 right now. I got a degree in mathematics and worked as a computer programmer. I am now retired. I got into checkers because I wanted to write a checkers program for my Apple ][+ computer. I joined the ACF and bought a pile of books. My checkers improved faster than the checkers program did and I became a moderately strong mail player. I created a WWW site with checkers pages. I designed a checkers diagram font. In 2005, I became the editor of the ACF Bulletin, which I still do. I've written a lot of checkers books, more than anyone, although Tom Wiswell and Richard Pask have sold more. I am coaching Lubabalo Kondlo by email. He calls me "oldman," which he assures me is a sign of respect. I am currently writing the Best Checker Games of Walter Hellman. I have created a lot of checkers problems by correcting other people's games and problems. I plan on living forever. Which has worked so far."
Who was Harry Freedman?
Harry Freedman (1878-1966)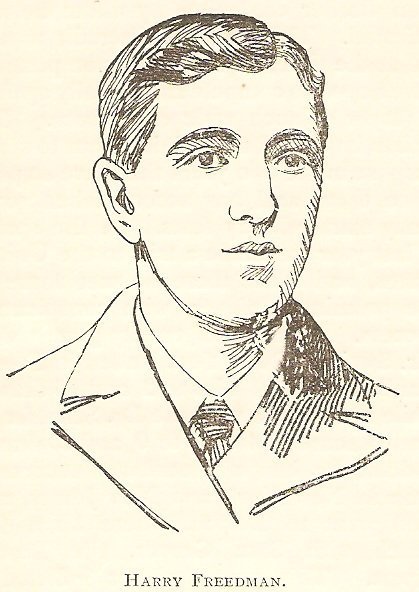 Harry Freedman (born Harris Fredwin) was born in Dundee on 5th Dec 1878. He was of Jewish origin and the son of a Rabbi. His family removed to Glasgow around 1890. In 1893 he joined the Hutchesontown draughts club and at once was recognised as having a natural aptitude for the game.
Freedman's success in the game was quite extraordinary. He competed for the local club championship in 1895, '96, and '97 winning it on each occasion. He competed in the Scottish Championships of 1896 but lost his match to the vastly experienced J.C. Brown (The famous "border champion"). His play was described as brash, self-reliant, and "fearlessly venturing upon new ground".
The following year Harry Freedman travelled to the USA to seek employment. He found employment as a bookkeeper but ended up giving simultaneous exhibitions and engaging in a series of challenge matches against a Mr. Swain, Dr. Schaefer, Sam Grove and C. F. Barker. Returning home via London, Freedman played a four-game drawn match with the celebrated Alf Jordan.
In the Scottish Championship of 1898, Freedman truly came of age by winning this tournament. Its entrants included legendary competitors' such as James Wyllie, James Ferrie, George Buchanan, A. B. Scott, W. Campbell, Hugh Henderson, R. G. Mc Millan, and G. M. Bonar. In doing so he became the youngest Scottish champion of all time at just 19 years old, a record that still stands!
He further demonstrated that it was no error, when he again won the same Scottish Draughts Championship of 1899, that included all the previously named, in addition to Robert Stewart, Wm. Bryden, and Freedman's former coach James Searight.
In 1901 Freedman challenged the World Champion Richard Jordan of Edinburgh to a match for the World Title and this was played at Edinburgh, Scotland, commencing 12th July 1902. Richard Jordan was leading by 7-1 & 21 draws when Freedman sensationally resigned leaving eleven of the stipulated forty games un-played.
Later that same year Harry Freedman emigrated to South Africa where he gained employment in Johannesburg and he also changed the spelling of his surname to Freeman. In 1903 he travelled to Port Elizabeth where he converted from Judaism to Christianity. While there he joined the Salvation Army and spent the next 30 years working as a missionary to spread the Gospel.
It was further reported that Freedman was also gaining laurels in the field of chess around Johannesburg, having won the Union Chess Club handicap tournament of 1913 while playing from scratch, during which he lost one game out of 24 played.
Harry Freeman died on the 17th November 1966 in Roodepoort, Transvaal. South Africa.
Taken and shorten from a submitted article of Hugh Devlin. The full article will be available in a full player profile.
Book index
The book misses an actual page index but has games grouped into openings and opponents at the end.
Content
Who is this book for
For all of you admirers of the games history or anybody who want to look at a players game close up in one space. A real must for collectors as well.
Conclusion
It is a fine and short analysis of games that gives enough room for you to build up and make your own conclusions. Worth for any draughts history lover, book collector or admirer of good games.
Rating

Where to obtain
Jim Loy – moc.l1695762154iamg@169576215467yol1695762154mij1695762154
Other game books
The Checkers Games of James Ferrie
…and so many more…