Version Reviewed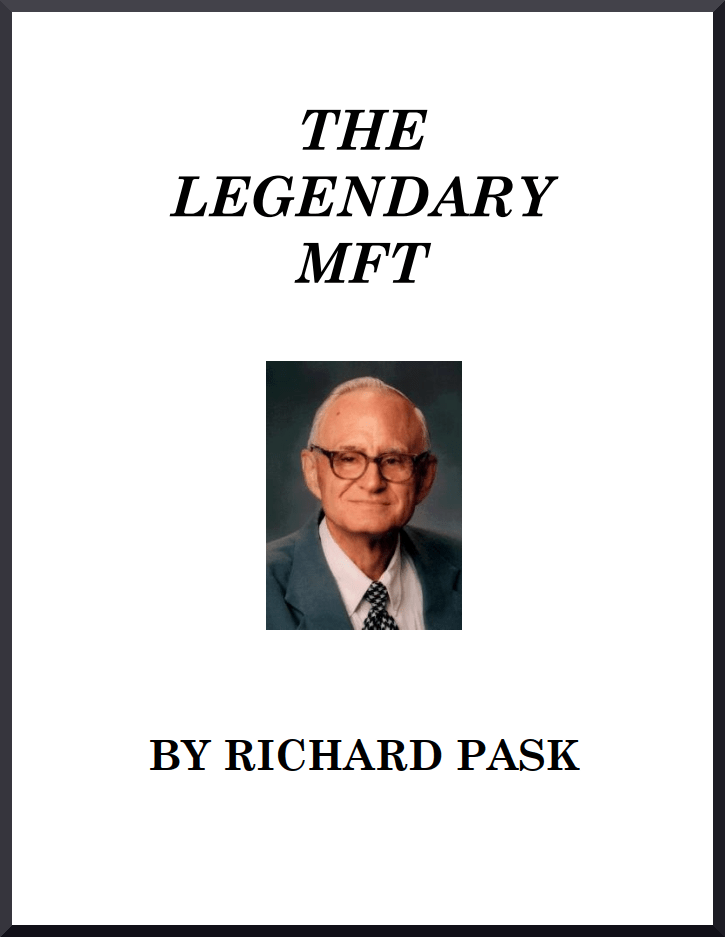 The Legendary MFT
Digital version with 236 numbered pages.
This is the first electronic edition, released April 21, 2007.
Published by Checkered Thinking.
First Publication June 2007
ISBN 1-872796-23-0
About the author
Richard Pask – Draughts Grandmaster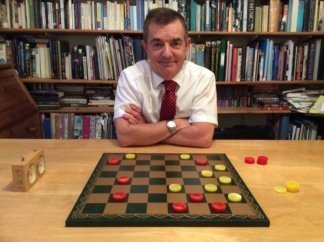 Mr. Pask was born in Weymouth, on 1st December 1961.
His interest in the game was only sparked when, at the age of 11, he stumbled across books by Willie Ryan and Tom Wiswell in his local library.
However, it was not until he was 17, when he joined the EDA (English Draughts Association) and ACF (American Checker Federation), that he began to study the game seriously.
He managed to establish himself as a seasoned player during the years from 1983-1991. Although he lost his 1990 match for the British Championship with Derek Oldbury by the score of 0-3 and 13 draws, he was not at all discouraged, and believes that subsequent matches might well have turned out differently.
Becoming a full-time teacher in 1993 largely crimped Mr. Pask's crossboard ambitions, although he successfully competed for the English Match Championship five times between 1995 and 2006, and forced him to concentrate on his book writing activities.
Draughts achievements:
English Match Champion: 1995-2006 (40-0 & 34 draws)
British Open Championship: 2nd in 1984, 1986 and 1990 (23-2 & 35 draws)
Board 1 for England: 1984 and 1988 Home Internationals (6-0 & 26 draws)
UK and Ireland v USA: 1983 and 1989 (2-3 & 35 draws)
County Championships (Avon): 1984-1997 (10-1 & 33 draws)
Avon Open Champion: 1987-1989 (35-2 & 25 draws)
Total score between 1984 and 2002: 161 wins, 13 losses and 334 draws (65%)
Books written on the game of draughts: 35
– Shorten from the online version of Checkers for the Novice –
Who was Marion Tinsley?
Marion Francis Tinsley (1927–1995)
Marion Tinsley was without any doubt the greatest checkers player who ever lived.
It is difficult to think of anyone who has dominated any competitive activity in the way Tinsley has in checkers. He won the world title in 1955 and after remained undefeated in match play until his death.
After that period he became disillusioned with competition and withdrew from playing championship matches. His return came in 1970 and Tinsley immediately regained the United States championship and, in 1975, the world title.
When he did play, he was unbeatable. He did give world title contenders in most matches almost humiliating experiences scores considering the level of competition. An astonishing feat as many of the players during his lifetime will make Greatest of All Time top 10s.
The checker's career-defining and moment of his legacy came in the form of the computer program Chinook. After having defeated the program in a previous contest with 4 wins to 2 losses and 22 draws he had to withdraw from the second contest against a much-improved machine after 6 drawn games. After he was forced to withdraw due to poor health. His health worsens further and he passes in 1995.
In all of his competitive checker's life he has lost but 22 competitive games. From 1945-1994 scoring 449 wins, 1105 draws, and 22 losses out of 1576 games. A true record worthy of the greatest of all times.
Book index
The book has a opening index among others.
Content
Rich collection of Mr. Tinsley's games. A lot of stats and some anecdote section to loosen it up.
Who is this book for?
Definitely for all lovers of the history of the game that are looking for Mr. Tinsley's games. For the beginner maybe not ideal to aspire to such a level but if you are aiming for perfection it is as close as a human can hope to come. His games still stand the test of time and all experts and above still admire and refer to his games if in doubt.
Conclusion
A wonderful book all in all. The games are not annotated but it's a fine collection of all those games. Compared to one other book by Mr. Shuffett"Checkers the Tinsley Way" which is now super rare… it has all one can wish for when it comes to the greatest of all time the only piece that I missed was the biography yet there are resources cited that did write one up.
Rating

Where to obtain
As usual Checker Maven is the go to page.
Digital version – The Legendary MFT
There is no physical print version for sale.
Other game books
The Checkers Games of James Ferry
…and so many more…