Willie Gardner (1863-1947)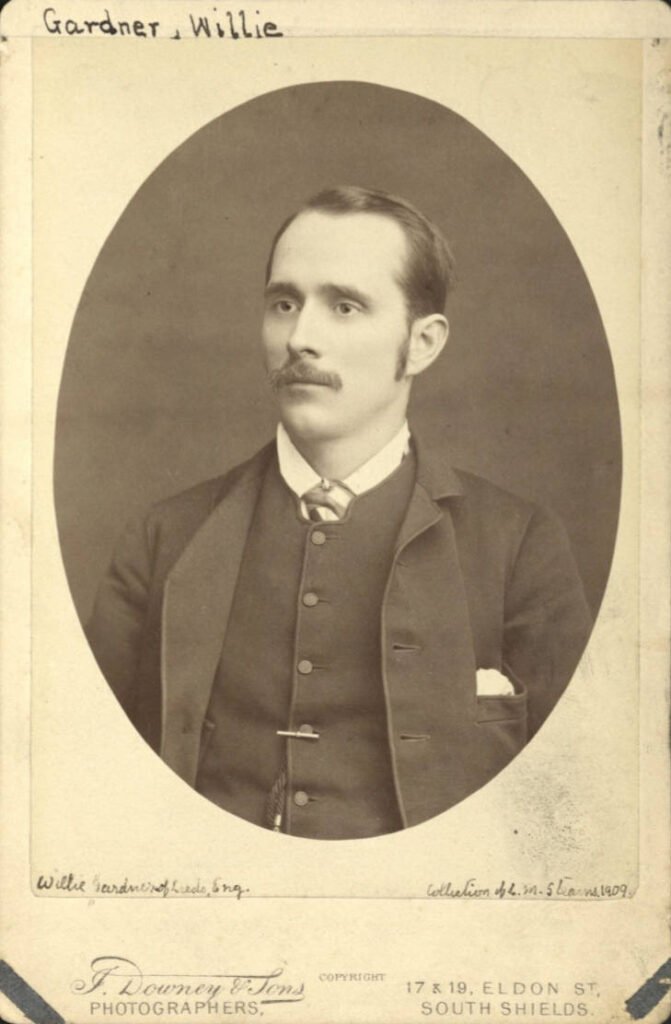 Willie Gardner a native of Leeds, County of Yorkshire, was born 21. February 1863. When 17 years of age he commenced playing checkers with his father, and shortly afterward, through the medium of the Leeds Mercury Draughts Column and the English Draughts Player Magazine by James Smith, gained an introduction to the local draughts circle which then consisted of Strickland, Birkenshaw, F. Allen, and C. G. Rodgers, besides many other strong players. In 1881 and 1882 he played Marsden of Leeds and Barratt of Wakefield for small stakes and defeated them both. A subscription match with Beattie of Liverpool was also added to his credit in 1883 by the score of 1 win and 5 games drawn. In 1884 Gardner did participate for the English side in the first Scotland against England International Match with a credible score of 1 win to 4 losses and 13 drawn. In 1885 a subscription match of 20 games with William Strickland as well of Leeds ended in a tie, but the second match in 1886 for a stake of $250, was won by Gardner by 4 wins to 2 with 37 games drawn.
His organizing powers were recognized by all who knew him, as though his efforts and advice several English cities and country organizations owe their existence. For many years he has held the blindfold record, having twice played 22 games at draughts simultaneously without sight of the board. This number was passed by Robert Stewart playing 25, which Gardner again surpass shortly. He has played in four English championship tournaments, winning the first one under the English Draughts Association management at Liverpool in 1889.
He did participate in the 1891 English Tournament being eliminated by Francis Tescheleit. He did represent England once again in the 1894 Scotland against England International Match with a total of 2 losses and 11 drawn with the two losses against James "Herd Laddie" Wyllie and Robert Martins.
Once again called up to represent England against Scotland in their 1899 match his score was 1 win 2 losses and 9 draws with a win and a loss to Buchanan and one loss to James Ferrie.
He did as well participate in the 1900 English Tournament being eliminated by H. Jacob and in 1902 taking 3rd. In the London Tournament of 1901, he won the consolation prize offered for those beaten in the first round.
As one of the leading English players he was called up in America against Great Britain match of 1905 and made the tour with a star studded British team. His score was 5 wins and 3 losses with 32 drawn with one of the losses against C. F. Barker. In the same year, he defeated a Mr. G. Jewitt for his first Yorkshire Championship as well as setting a Blindfold record by playing 28 boards at the same time in Sheffield.
Willie Gardner contributed his share to the literature of the game, winning Janviers' prize for the greatest number of corrections published on Janviers' Anderson book. His name is perhaps better known in connection with the 7-11 Will o' the Wisp pamphlet, published by Leggett and Gardner. He contributed as well to various newspapers publications and used to edit the draughts column of the Weekly Post.
In 1906 he managed to retain his Yorkshire title. In the 1907 English Tournament, he placed shared 5th with 3 other players each at 17.5 points and played R. T. Ward 2 wins each and 8 draws in Leeds.
Once again at an English Tournament 1908, he finishing mid-table with 4 wins to 3 losses and 15 draws. As well in 1908, he became the Yorkshire Champion three times in succession by defeating a Mr. Goldsboro.
His last major appearance came for the English side against the Scottish in their 1910 International match. Scoring 1 loss and 10 draws. Around 1915 the draughts news become scarce about Willie Gardner. He still did occasional blindfold exhibitions, contributions to newspapers, and played in the counties but withdrew more and more from the draughts center stage and big tournament play. He died 13. January 1947 in Leeds age 83.
A game by Gardner:
Gardner in the news: