Version Reviewed
Third International Match Book Great Britain versus United States of America Bourmouth 20th – 25th August 1973
Annoations by R. Fortman, U.S.A.
Printed by Ad-Services, Darkeyne Street, Nottm. with 84 numbered pages.
First Publication 1978 – Paperback
About the author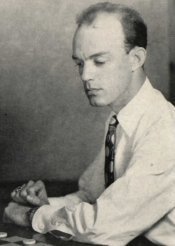 Richard L. Fortman (1915-2008)
Mr. Fortman a native of Springfield, Illinois where he virtually lived all his life was a legendary checkerist. His top achievements beside Six Illinois State Champion are two times World Mail Champion.
He was well known as an analyst, commentator, and the creator of Basic Checkers. Which still serves as one of the go-to references in any serious players library.
Book index
The book has no opening index to speak of. Openings are sorted from 9-13 to 12-16.
Content
Who is this book for?
For a collector of games only. Unfortunately due to draughts politics not the best team did compete for the UK. So this is for a collector of well annotated games. Richard Fortman tried to do his best under the circumstances which were plenty.
Conclusion
All in all, from all the International Matchbooks this is the most disappointing. The UK couldn't get together their best team due to draughts politics. The matchbook is a very compact paperback. Another letdown is as well the portraits in the book and the biographies of the players which are for most parts missing as the players never submitted them. It has no individual player scores listed and the list goes on and one of things amiss. Another great example is there was no space to identify the players in the group pictures so if one doesnt know them one cant to know who is who. Richard Fortman does his best to save the book with his style of annotation but he has to work with what he is given. Due to this and many flaws if you want to miss out on one of the International Match books this is the one you can miss.
Rating

Where to obtain
Couldn't find a spare one on usual sources.
Alternative Game Collections
…and so many more…