R. D. YATES (1857-1885)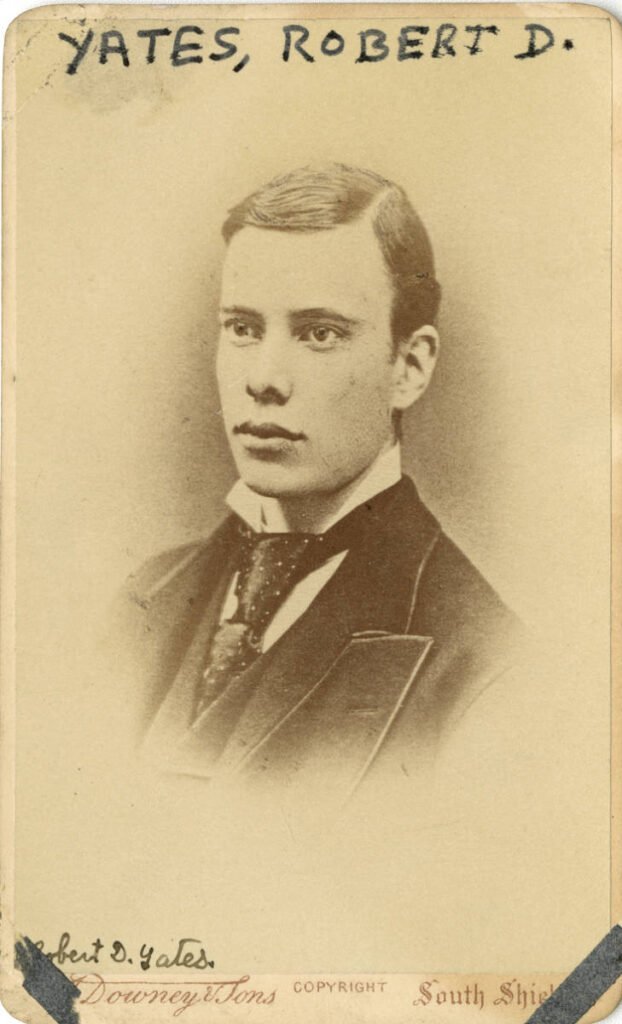 Robert David Yates was born in Brooklyn, N. Y., on December 22, 1857, and at the age of 18 years held the proud title of world champion. This is up until today the youngest world champion in this variation of checkers and draughts. He was as well noted for his wonderful blindfold games: without sight of the board or men, he could cope with the best players of the world.
During his New York visit in 1873 the World Champion James "Herd Laddie" Wyllie, did play a then 16 years old Yates but beating him with ease 6 wins to 1 loss and 6 draws.
The young Yates spurred by this result went on to play a few more matches. In April 1874 in a friendly match, he defeated S. T. Allen with a score of 38 to 12 losses and 50 drawn. This was followed by a match in June 1874 against Priest 4 wins to 11 losses and 11 drawn with Yates being the victor. His results were so well received that by July 1874 it was reported that Yates had the attention of W. R. Barker. W. R. Barker was a world title contender and deemed one of the best players at the time and the brother of C. F. Barker.
In a rematch, October 1874, Yates again cemented his form against S. T. Allen defeating him by 33 wins to 8 losses and 59 drawn. In January 1875 a Mr. Broughton defeats all New York players besides Yates whom he did beat by the slim margin of 10 wins to 9 losses and 14 draws. In February 1875 the third series of friendlies with S. T. Allen was played with Yates winning 16 to 4 losses and 30 drawn.
In August 1875 W. R. Barker visited New York accompanied by his brother C. F. Barker. Yates suffered defeat 5 losses to 1 win and 41 draws. This result was a pleasing result for his friends as W. R. Barker was thought to be the US Champion at the time.
It is to note that during the same time he played and defeated C. F. Barker 6 wins to 0 losses and 3 draws as well as Priest 7 wins with no losses and 11 drawn.
In December 1875 a rematch with Broughton was arranged resulting in a drawn score 3 wins to 3 losses and 4 draws. In January 1876 he played Broughton once again this time Yates as the victor 3 wins to 1 loss and 3 draws. When James "Herd Laddie" Wyllie returned to New York they agreed to a friendly match and in March 1876 the result was in favor of Yates 2 wins and 24 drawn. After this success, another friendly was agreed upon and Wyllie got again defeated in series of 26 games 5 wins 1 loss, and 20 drawn for Yates.
As a result of the two previews matches a match for the World Championship was agreed. A total of 50 games were played on 17 August 1876. No stakes were raised but Wyllie claimed the admittance money. The result of the contest was Yates 2 wins to 1 loss and 47 drawn.
James Wyllie left the US as a dethroned world champion after holding the title for 20 years. During his trip to the USA, he played over 12,000 games, winning 11,000 and losing about 50, and drawing the remainder. John Busby one of James Wyllie's coaches did try his hands on Yates in August 1876 and had lost 7 wins to 0 losses and one draw.
In September the same year, the well-known author and problemist R. E. Bowen tried his hands on Yates and some other local players and was defeated by Yates 8 wins to 2 losses and 2 draws. In October 1876 Yates played the likes of Janvier, Denny, and others winning 37 wins to no losses and 6 draws.
Even though he had won against Wyllie there was still some doubt about the legitimacy of his claim to be the world champion. So to conclude this James Wyllie's long-time rival Robert Martins made his way over the ocean and in June 1877 their match ended with Yates winning 3 losing 1 and 45 drawn. In the following months, he defeated more famous players namely W. R. Barker, C. F. Barker, A. J. Heffner, R. E. Bowen, and Freeman the native American.
In 1878 news about Yates became rarer and he decided to retire from the game and hand the title back to James "Herd Laddie" Wyllie. The cited reason is him taking up studies in the field of medicine. After this time there are just occasional games recorded of him.
The death of Dr. R. D. Yates occurred in 1885 aged just 27 having contracted typhoid while serving as a ship's physician aboard the steamship Scheidam and he was buried at sea.
A game by R. D. Yates
R. D. Yates in the news
This is just a very short bio on R. D. Yates. If you are looking for the real deal then feel free to looks up the book dedicated to him by William Timothy Call called "R. D. Yates Checker Player".