August J. Heffner (1858-1931)
Born in Cambridge, Mass. to German parents, on April 5, 1858, he has lived in and around the Boston area all his life. By the advice of John Halleran, he purchased Spayth's American Draughts Player.
In Matchplay he has beaten H. Z. Wright, Busby, Clarence H. Freeman, James Wyllie, and C. F. Barker. He was employed by a railroad company as a brakeman and when off duty he was seen analyzing openings and play. He made quite a name for himself, especially in the Kelso opening. At one time he did edit checkers columns in the Boston Yankee Blade, The Boston Herald, The Boston Globe, and Boston Post. He published a short-lived magazine in 1899 the American Checker Player Magazine.
At a young age he was defeated by W. R. Barker 1 win to 4 draws but defeated C. F. Barker 2 wins to 2 draws.
He went on to play a series of matches with Herbert Z. Wright. The first match on the 15 May 1881 ended wins and 1 draw at Boston, Mass. On the 22nd to 30th March 1883 they did face off again in Boston, Mass. with the score being 7 Wins to 3 losses and 10 drawn in Heffners favor. Exactly a year later in 1884, their early match series climaxed with a 50 Dollar Stake Match with Heffner duplicating the score of the 1883 encounter.
In 1885 Heffner did challenge Clarence H. Freeman to a match. Their encounter from the 25th May to 6th June for the American Matchplay Championship did end in Heffners favor 4 wins 3 losses and 17 drawn at Providence, R. I. It was said that he made no claim towards it as he had the feeling that Freeman had not recovered after a previous match with C. F. Barker.
C. F. Barker did challenge him for the match title in 1886 with the match taking place on the 11th January to 9th February in Providence, R. I. and ending in a defeat of Heffner with 1 wins 2 losses, and 47 drawn. In Spring the same year he defeated H. Z. Wright with 2 wins and 20 draws at Chicago.
On the 15th of May 1888 he gave Herbert Z. Wright another run for his money in a stake match held at Boston. The score being 5 wins and 3 drawn.
In 1905 he was elected to represent the USA in the First International Match against the UK. He scored 4 wins 1 loss with 35 drawn against the strongest UK team in history with a lineup of future and past World Champions consisting of such names as James Ferrie, Richard Jordan, Alfred Jordan, Robert Stewart. His only loss was to veteran James Seawright.
In 1907 the US held the first national tournament. He did reach the final but did lose to C. F. Barker in the final with 1 loss to 3 drawn.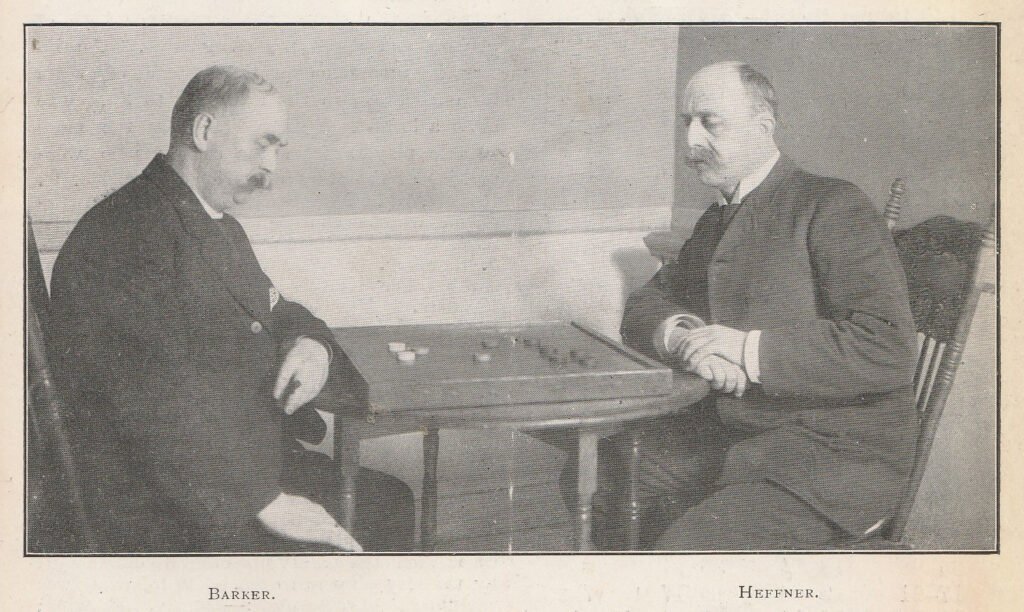 In later years he did put his checker ambitions on the hold and it went relatively silent due to work and personal life but he still did manage to help many prominent players to prepare for their matches while editing games, analyzing, and composing problems. He did coach and support a great many players during his lifetime but namely, in 1921 he did help prepare Newell Banks for his upcoming World Championship Match against Robert Stewart.
He did captain the American team to the Second International Match held in 1927 and is widely credited as the architect for the decisive victory. While having a great personal score 6 wins 5 losses to 30 drawn.
In January 1931 an initial 3-move list was published by the American Checker Association to be adopted for future competitions. Those were based on suggestions by Heffner.
On the 21st February 1931 August J. Heffner died aged 72 in Dorchester, MA. Undoubtful one of the greatest players and analysts in American checker history.
A game by August Heffner:
August Heffner in the News: